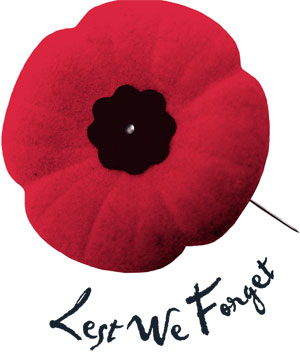 I Remember…
"Remembrance Day" is what November 11th is called in many Commonwealth Countries – such as Australia, Barbados, Bermuda, Canada, Ireland, South Africa and United Kingdom (as well as the allied country Ireland). "Veterans Day" also falls on this day in the United States, and Armistice Day is celebrated in France and New Zealand.
In Canada, Remembrance Day is a statutory holiday, but sometimes I wonder if we really remember what this day is about? Is it just another holiday – a day where we can all celebrate not having to go to work?
I remember… Remembrance Day was dedicated by King George V, on November 7th 1919, to commemorate the sacrifices of members of the armed forces and of civilians in times of war, specifically since the First World War.
November 11th was chosen because WWI formally ended at the 11th hour of the 11th day of the 11th month of 1918 (11:00am, November 11, 1918) when the Germans signed the Armistice Treaty.
Thankfully, a lot of people remember to bow their heads at 11:00am and thank the men and women who gave their lives in WWI and all the wars since. Some buy also poppy's to show their support as well.
The poppy is Canada's flower of Remembrance, has been since 1921, thanks in large part to the Canadian military physician John McCrae's poem In Flanders Fields. As mentioned in the poem, poppies bloomed across some of the worst battlefields of Flanders in WWI, their red colour was an appropriate symbol for the bloodshed.
John McCrae wrote that poem in 1915 for the burial of his friend and it was published that year by "Punch". It grew to be very popular, and least he got to see some of the recognition before he died of pneumonia in January 1918, just ten months before the end of WWI which his poem now commemorates.
At 11:00am on November 11th, Canada, and many other commonwealth countries, will observe two minutes of silence to remember those who have given their lives in the service of their country.
Whether you believe in war or not, this day isn't about war. It's about their lives and our freedoms.
My heart is with my dear friend Cpl. Levac in the Canadian Air Force, and the men and women that he serves with. You make me proud to be Canadian.
In Flanders fields the poppies blow
Between the crosses, row on row,
That mark our place; and in the sky
The larks, still bravely singing, fly
Scarce heard amid the guns below.
We are the dead. Short days ago
We lived, felt dawn, saw sunset glow,
Loved, and were loved, and now we lie
In Flanders fields.
Take up our quarrel with the foe:
To you from failing hands we throw
The torch; be yours to hold it high.
If ye break faith with us who die
We shall not sleep, though poppies grow
In Flanders fields.
— Lt.Col. John McCrae (1872 – 1918)