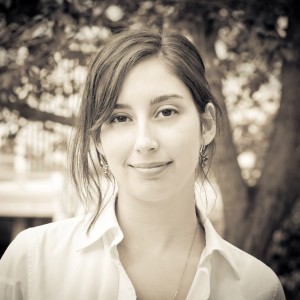 Tina Hunter writes primarily in the Science Fiction and Fantasy genres, however she's been known to dabble in horror, general fiction, YA and woman's fiction. She's been published in several anthologies, and participated in some unique collaborative writing adventures. She also attends local conventions and writing conferences, sometimes as a panellist and other times as just a fan-girl.
Under her married name, Tina Moreau, and with the help of Margaret Curelas, Tina started Tyche Books. A Canadian small-press specializing in science-fiction, fantasy and related non-fiction, all available as ebooks and trade paperbacks. Tina left in January 2013 to pursue other opportunities.
Tina currently lives in Edmonton, Alberta, Canada with her husband, one small son, and two large dogs.
 Highlighted Panel Topics:
"What Do Publishers Really Do?" – Comic Expo 2012, Calgary, Alberta
"The Future of Short Stories" – Pure Speculation 2010, Edmonton, Alberta
"The Changing Role of Women in Science Fiction" – Con-Version 26, Calgary, Alberta
"Women who don't kick butt: Can they still win hearts and minds?" – Con-Version 25, Calgary, Alberta
Highlighted Interviews:
Mike Plested's "Get Published" Podcast
CBC
Artist's Asylum Project – By Freak and Nitro
Frequently Asked Questions:
1. Looking at the fiction you've written to date, what kind of things does your work explore?
My writing is not what you would call warm and fuzzy. I tend to explore the hardships and pain that a person can go through. My characters do not have easy lives.
I don't actually like writing 'dark', I can't even watch scary movies because I get too scared. But writing dark is the best way to show how powerful things like Hope can be. Generally, my work explores how something good can come from something really bad.
2. What do you love about writing?
I love world building; it's a lot of fun for me. I could spend hours crafting the tiniest details in a world that may not even make it into the book or story. It's a way for me to ask 'what if' on a world-wide scale and then try to answer it. Even if the world I'm creating is based off of the real world, like in science fiction, you normally get to take one or two things and really explore the possibilities. And with Fantasy there is a whole lot more to explore.
3. Why did/do you want to be a writer?
Ever since I was little, telling stories was what I was good at. I would sit at my Great Grandma Hunt's knee and tell her my stories. She encouraged me to write them down so that one day other people might enjoy them. At the time I secretly thought she only said it so that I would stop bothering her, but she was always willing to listen to my stories so I decided to take her advice. Since then, I can't imagine my life without writing. It's a way for me to control everything from the weather to what a character says, which means I don't have to be a control freak at home 🙂
4. Are there any other writers in your family?
Actually, my mother used to write when I was little but she stopped when I was in middle school. That said, she was very supportive of my dream to write and my entire family (extended as well) have been my biggest fans and cheerleaders.
5. Where do you get your inspiration for stories and characters?
I truly believe that inspiration is everywhere; you need only to look for it. That said I do have a specific source that I use fairly often. I used to be haunted by night terrors. Horrible dreams that would leave me shaking when I woke up. As a way to cope, I started writing them down to get them out of my head. After a while they got less horrible and in a strange way more interesting. I was able to remove myself from the dream and watch what was happening like a movie. These dreams often give me the greatest inspiration for stories of all shapes and sizes.
6. Who are your favourite authors and why?
The author who made me curious about Science Fiction and Fantasy was Ann Maxwell in her book "Timeshadow Rider", but I learnt how to build complex and beautiful worlds from Anne McCaffrey. Steven King taught me to embrace the gritty dark side of reality, and Arthur C. Clark showed me how to fall in love with a character despite their faults.
7. Do you write a certain number of words per day?
I'm not very good at self discipline, which is what every writing guru will tell you that you need. For a month I tried writing 850 words a day and, while I wrote more than I had in the two previous months together, I rarely met my goal.
However, I did find that writing something everyday was fantastic and something I could achieve so that is my current writing goal – to write any amount of words on a writing project everyday (with one day off per week).
But the best motivation for me will always be a "write under pressure" deadline. The kind given by an external person. Be it a deadline for a competition I'm entering or the kind from family like, "Tina, you have an hour to write before we leave for dinner", that's when I really get stuff done.
Have a really hard question you can't find in the FAQ's? Check out the Contact page to get in touch with Tina.